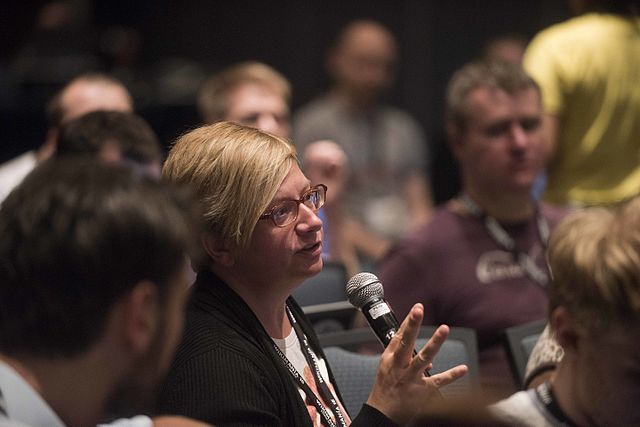 Sandra Fauconnier
sandra.fauconnier (@) gmail.com
Facebook – Twitter – LinkedIn
I'm an art historian interested in new media, and a Belgian who lives and works in the Netherlands. I know how to navigate between different worlds 🙂
Since the late 1990s I have managed several cultural websites and have worked for various (online) archives and collections in the cultural sector. My art historical specialization is internet art and new media art. Apart from that, I have very broad artistic and cultural interests, ranging from early print publications to postwar architecture, design and textile.
While working for the collection of the Netherlands Media Art Institute, I have developed a strong interest in online video. I know quite a bit about how to manage video on the web, and am familiar with the process of video production. Mostly together with Mano Daniel Szollosi, I create videos about art and culture on a freelance basis.
In 2003 I made my first edit on Wikipedia. I'm an advocate of free culture, free knowledge and open data in the public sector, including publicly funded cultural institutions. Since a few years I have developed a strong passion for Wikidata, where I can put my long-term interests in data modelling and the semantic web into practice.
Although I'm not a programmer, I'm a power user quite proficient with many specialized tools, especially for data modelling and manipulation (Google Refine, advanced spreadsheets, web scraping). I love to learn new things every day.
I'm available for freelance assignments related to culture, online video, open data and cultural websites. Look at my portfolio to see what kind of projects I'm already doing. You can also find more information about pricing.